What has driven polar bears of the Arctic to eat dolphins?
For the first time in history, scientists from the Norweigan Polar Institute observed a new mannerism in polar bears. On April 2014, a male polar bear located in the Norwegian High Arctic was spotted eating two white-beaked dolphins.
The startling findings were published the Polar Research Journal last week.
According to the authors of the study, such strange mannerism observed in the polar bear is a direct result of global warming.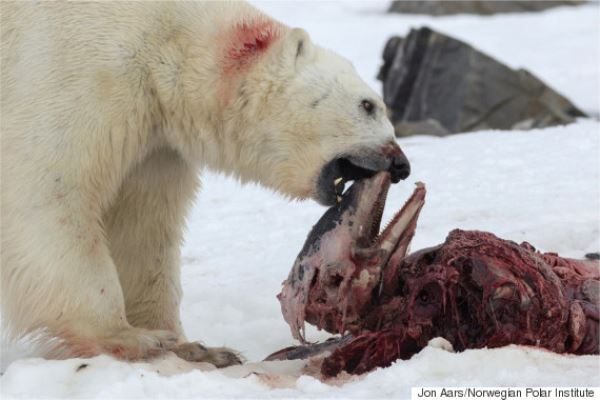 Jon Aars, one of the study authors explained: "This is the first record of this species as polar bear prey. The warming of the Arctic is significantly changing the ecosystem and relations between species."
At least seven other dolphin carcasses alleged to have been hunted on by six different polar bears were also discovered.
The researchers believe that a pod of dolphins were led into the Arctic by warm water and retreating ice. The dolphins eventually got stuck when the strong winds blew ice on top of them, As they surface to breathe through a small hole in the ice, a polar bear most likely preyed on them.
It was noted that the polar bears observed consuming dolphins were malnourished. This is another direct consequence of global warming as the seals, their natural prey, are being driven away from the polar bear's ecosystems.
Ian Stirling of the University of Alberta in Canada said that polar bears, whose main diet consists of seals, will eat any marine mammal in the absence of seals.
In addition to the strange behaviour of consuming dolphins, a polar bear was caught trying to hide a dolphin carcass in an attempt to store it for later meals by covering it with snow.
 Speaking to Newsweek, Jon Aars said: "The dolphin was only partially covered with snow, but the bear was in the process of covering it when we arrived."