The universe is indeed vast and full of mystery. For some people in Northern Luzon, an incident during one starry night had left them dumbfounded. Many of them looked up in the sky in awe as "dancing lights" illuminated.
Some residents of Ilagan, Isabela thought that the dancing lights were drones or an airplane. But they soon realized it was quite from their guess.
People from Peñablanca, Cagayan also saw the same mysterious light. A video from Gina Borja of Tuguegarao also showed how the lights were moving, going up and down.
Another video from netizen Liberty Casiano Castro showed that the lights seem to have "long legs" which they described as "jellyfish-looking." The light were seen as far as Ilocos Norte.
"Ano yan UFO?"
"Rocket?"
"Opening ng heaven?"
"Baka alien?"
A netizen commented, "Habang tumatagal, mas lalong lumiliwanag."
"Para po siyang plato na lumilipad, baka end of the world na," another commented in jest on a report by Kapuso Mo, Jessica Soho.
Jerick Palego described that the light was moving rapidly. The light lasted for a minute until it disappeared into the darkness. "Inisip po naman na UFO at di po normal yung bilis ng galaw niya sa langit," he said.
Many elderly were worried that the mysterious incident was an omen of something bad.
Expert explains
Romeo Ganal Jr., a meteorologist and PAG-ASA Weather specialist, the odd light was initially categorized as a UFO. However, after their investigation, they found out that the mysterious lights were actually a space rocket from a rocket-launching space facility near China.
The light may come from a Long March 7A space rocket. The rocket has a leng if 60.7 meters and a diameter of 3.35 meters. It is also equipped with four-side boosters and shaped like a jellyfish. Because of its shape, it is dubbed as a jellyfish rocket and is considered to be China's longest rocket.
"Ito ay pag-aari ng China Aerospace Science and Technology Corp," the meteorologist explained.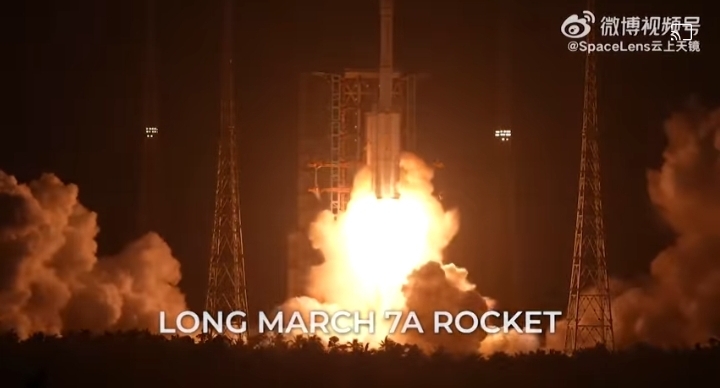 "Ginagamit ito ng China sa kanila environmental studies, at iba pang space technological test," Ganal added.
Spectators feel proud
Despite the explanation that the mysterious lights were not a UFO, many of those who witnessed it still felt lucky. Many spectators felt proud that they were able to see the jellyfish rocket.